A family jewellery store in the heart of Brussels

The Maison is born from the passion of Paul De Witte in 1932. That year, Coco Chanel launches its first jewellery collection and Tintin is living happily in America. Located in the historic jewellery district of old Brussels, with a view of the Grand Place, the headquarters of the Maison De Witte is now one of the oldest independent Brussels jewellery stores still in operation. And it's no coincidence: since the opening of the boutique on Petite rue au Beurre, Paul de Witte and his descendants have always taken great care to seek the innovation, elegance, and prestige that would best match to the needs and expectations of their customers.

After the first years and the first successes, then the painful episode of the war of 1940, the fifties brought success to the Maison. In 1958, while Brussels vibrates to the rhythm of a formidable universal exhibition, Nicole De Witte decides to join her father and participate in the marvelous future that would be the Maison. The family saga has begun. De Witte has several addresses at rue au Beurre and la Petite rue au Beurre. It distributes some of the most beautiful Swiss watch brands exclusively and contributes to the success of the Pontiac brand, with which it collaborates in very innovative marketing operations: setting up a "Pontiac Rally" in the streets of Brussels, sponsorship of Tour de France riders (including some famous yellow jerseys), and organization of contests in the national gazettes as shown opposite, etc. Remembering that at the time, bags filled with ballots were manually counted.

The workshop-boutique of the house in rue au Beurre, which was given a facelift in 1975, is a delight for Brussels residents. At De Witte, we not only find prestigious watch collections, but we also manufacture and transform splendid, unique, and personalized jewellery. We sell silver tableware, clocks, and luxury accessories. The family circle is growing: Martine, one of Nicole's daughters, decided in turn to embark on the adventure on the wake of the 1976 summer heat wave. Under her leadership, De Witte becomes the official partner of the National Bank of Belgium and other renowned companies, allowing a large number of watch enthusiasts and the most novice to appreciate receiving a personalized prestige watch as a gift. This service also remains a real value-added service for our B2B customers today.

In the mid-1990s, it is now Martine's 3 daughters who launch into the world of watchmaking and jewellery. The arrival of Géraldine, Valérie, and Colombine marks a turning point in the adventure of Maison De Witte, with new dynamics and ideas. In 1997, the company launches its first website and acts as a pioneer in the sector. The family distributes its activities to its various addresses in the shops around the Grand Place and avenue de la Toison d'Or. It also signs with new prestigious brands and welcomes young belgian designers. In 2013, De Witte launches a new store in Stockel and tests a "Pop up Store" on rue Marché aux Herbes. Designed by the architectural firm Lhoas & Lhoas, the Stockel store wins a "Commerce Design Brussels" Award in 2014. The shop on Rue Marché aux Herbes is launched under the "De Witte Generation" flag, with brands stamped as "younger" and "more disruptive" compared to the worlds offered in the traditional shops of Maison De Witte. The ephemeral boutique proves to be successful and this type of formula, as well as special operations, are renewed in partnership with brands such as Daniel Wellington, Rob, Raidillon, , etc.).
A classic and
innovative house
We have matured our know-how for 4 generations to offer you the best in jewellery and watchmaking today. At De Witte, quality, service, and selection are the keywords. We have chosen the most exciting, and different, jewellery and watch brands of the moment for you. We not only create dream jewellery in our workshop, but we also transform or repair your old jewellery for you. You can find us in the heart of Brussels andStockel. We are here to welcome and advise you. Maison De Witte, for you, with passion since 1932.
A woman's story
Maison De Witte was born on Rue de l'Eglise in Schaerbeek, then in Forest, where Paul De Witte, a young 23-year-old artisan jeweler, opens a workshop with his wife in a small house on Rue des Alliés. Since then, over the years, the women of the family have taken turns at the helm of society. After Nicole, Martine, and Géraldine, today it is Valérie and Colombine who watch over the Maison. Surrounded by the best watchmaking craftsmen and independent jewelers as well as qualified staff in its 2 shops, the team is happy to answer your questions or guide you regarding the choice of a watch or a piece of jewellery.
A wide range of professional
and personalized services

We favor the creation of a relationship of trust with each of our customers. This is why we offer a wide range of services in order to be able to meet all desires, with or without an appointment, always on the basis of a quote. Our jeweler's promotes the quality of the products and materials used. We also guarantee you the best prices and the best time periods.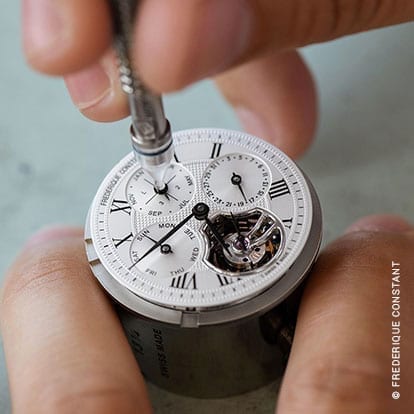 Watch Revisions
We take care of the maintenance and repair of your watches: movement refurbishment (replacement of worn or damaged parts, checks, etc.), order of straps, replacement of glass, polishing, engraving, brushing of straps and cases, order of custom bracelets…
Creation of custom jewellery
Tell us about your project! Together, we will work on the basis of drawings, sketches, or photos respecting your wishes and will make your ideas a reality while respecting your budget. We can create unique jewellery in different styles: modern, contemporary, art deco, rough, avant-garde...
Appraisals
We can appraise your gold jewellery. The document you will receive will specify the weight of the gold and the weight and quality of the gemstones.
Do you have a question ?
Or want more information about our jeweler's, a watch, or a piece of jewellery that you have seen? Feel free to contact us by email or telephone, we will gladly answer all your questions.